We took to the streets and measured the nation's retirement IQ and found there is room for improvement. The good news is, becoming and staying informed is not as intimidating as you may think. We have the tools and resources you need to plan for your golden years and raise your retirement IQ today.
Our proprietary nationwide survey of pre-retirees showed a startling number of baby boomers don't know how much money they need to live comfortably during retirement. Without a target in mind, many baby boomers have ended up putting away very little and face hurdles based on their startlingly low retirement IQ.
Is having less than $1 million saved enough in retirement?
60% of baby boomers say yes. Reality is, you need at least a quarter of a million for health care costs alone.
Are there financial products that deliver lifetime income?
Nearly half of boomers don't even know these products exist.
Will you receive more money from Social Security than the average monthly payment?
Two out of five boomers think so.
What is the average monthly Social Security payment?
Even though half of boomers have no idea, they are still banking on it as a mainstream of money for retirement. In fact, many overestimate the amount they will receive by $500. This is a budget miscalculation that will leave them almost a quarter of a million dollars short over a 30-year retirement.
Budgeting troubles continue when boomers were asked what they would do with a large cash gift. For many, retirement did not even come to mind.
40% of boomers prioritize lifestyle purchases over retirement savings.
52% of boomers have debt to pay down before saving for retirement.
What Can You Do?
If you are confused about retirement planning, take time to not only understand financial concepts and the retirement landscape, but also to set up a financial plan. It is important to estimate your current costs and calculate how much you will need to maintain your lifestyle. Discover if you are currently saving enough to live comfortably in your retirement and what sources of income living you will have once you start getting a paycheck.
1 in 4 Americans
Have absolutely nothing saved for retirement.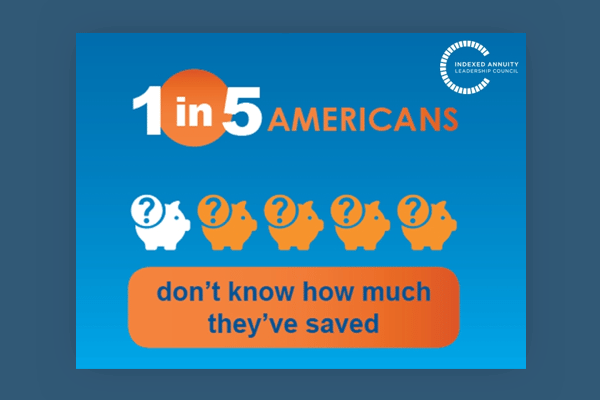 1 in 5 Americans
Don't know how much they've saved.
60% of Boomers
Think they need less than $1 million in retirement, but in reality health care costs alone will cost at least a quarter of a million.
Startlingly Low Retirement IQ
Although many Americans think they are financially savvy, data shows the group closest to retirement, baby boomers, struggle with retirement fundamentals and are not saving enough for their golden years. Many aren't financially prepared for retirement – they have little saved, are consumed about lifetime income options, and don't know how much money they need to live comfortably. Get the full picture. Share it. Start a conversation.
Calculators
Plan for the years ahead with help from our five retirement calculators.